By Michael E. Abrams
Take a whole fresh flounder.

Scale it and fry it in fresh oil and cross-cut it to a delicate perfection, salt and pepper to tease the tongue, fix it so that like a tender, simmering, edible picture puzzle, so you look at it and it is almost a sacrilege to take it apart by fork, or even squeeze a lemon or drop a dollop of tartar sauce. Add some hush puppies cooked to such a peak of soft and mellow tang that one might envy the old watchdogs who were tossed these cornbread treats by Confederate soldiers to hush them down.

For many, the discovery of this inconspicuous restaurant in Sumatra, Florida, is like discovering a Rembrandt in a flea market. It shouldn't exist, but there it is, in Liberty County, not too far from what's called Tate's Hell, which defines being lost in the wilderness in Florida. Sumatra, elevation 26 feet, is truly "in the middle of nowhere." The Redline gas and grocery store and a bridge over a creek are signals you have arrived, unless you are a hunter, a botanist, a wildlife officer, or someone else with a fishing rod and a GPS.

The good part is, Sumatra is on the way to St. George Island for beachgoers or sightseers who want to avoid the traffic on U.S. 98.

Statistics for Sumatra come up blank on the computer. The Apalachicola river flow nearby is 25,000 cubic feet per second. It's the western boundary of Liberty County. Sumatra, amid the pines and oaks, is home to enough people to support two churches, a voter precinct and a post office.

This place is familiar to those who know about restaurants in the middle of nowhere – customers who drive the miles to a Liberty County town called Sumatra. For them, there's no place quite like it. If you know about Sumatra (pronounced soo-matt-tra by those who live here) - you know about the unpretentious building known as Family Coastal Restaurant.

Liberty County is home to about 8,000 residents, mostly in the Hosford area and Bristol, the only incorporated city. Two thirds of the county's 536,320 acres are in the Apalachicola National Forest. You can easily find your way into the wilds if you try one of the many forest dirt roads.

Across from us at another table at the restaurant sat a man and his wife, here from Apalachicola, some 40 miles away, celebrating their 43rd wedding anniversary. "We chose here because I have been here before," said the gentleman from Apalach. "We know what the food tastes like, and it's delicious. A lot of people know about it." The food, he added, "gives you that 'want to return' feeling."

Drive the county, know the restaurant. There are people who go back and forth to St. George or Apalach, or who comes to explore the trails and savannas, hunt bear, deer hogs or turkey, botanize, scope out frogs and lizards, toss a lure, scoop up crawfish, ecologize, or just get lost in the way Florida used to look.

Owners Roger and Kim Mckenzie took over two-and-a-half years ago from Robert and Diane Tucker, who had established Family Coastal as place where the whole family participated in operations. It's the same for the Mckenzies. Their son Zach, for instance, is the chef who knew what to do with the flounder and anything else, including the stuffed grouper, which is a best-seller on the menu. Catfish is also popular.

Like the Tuckers, the Mckenzies clean their own fish and peel their own shrimp.

Improvements include a salad bar, the availability of beer, a cellular phone service that provides "a little hot spot" so that people out in iffy Liberty County who use Verizon service can get a strong signal in the restaurant, wi-fi, and an expanded menu. The restaurant can seat as many as 85 to 100 people if the occasion calls for it.

Beer is something new. The restaurant, open Wednesdays through Sunday, does serve beer as a convenience to customers who want it, said Mckenzie. By agreement with the community, however, beer is not sold on Sundays. The restaurant has strong community support, said the owner.

"One customer said how do you get steaks so good?" said Mckenzie. "Well, we buy choice angus. We don't cut the steak until you order it." That way, as the steak sits on the loin, it maintains its quality and taste.

The family has been fishing, shrimping and oystering for generations back, native to Franklin, Wakulla and Liberty counties. What's the secret to the reservoir of flavor that percolates through this restaurant?

"The secret is to have good seafood. There really is no secret except having good grease," Mckenzie said modestly. "Everyone (other restaurants) want to run the same grease day after day."

The restaurant on Hwy. 65 south of the filling station-food store is reachable through 850-670-8441 and at familycoastalrestaurant@yahoo.com. It is open from 11 a.m. Wednesday through Sunday.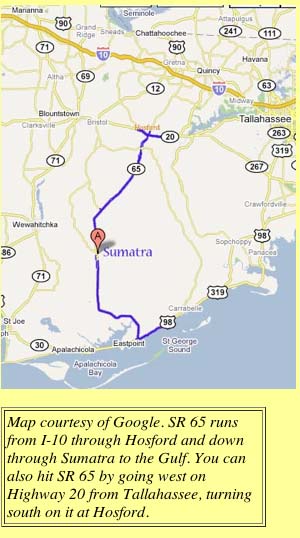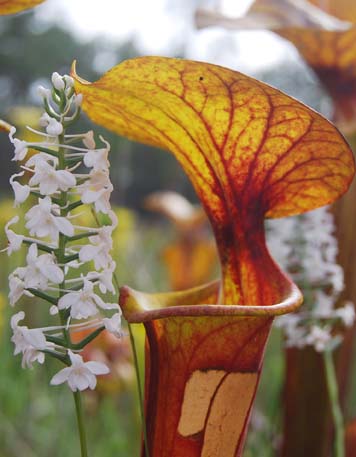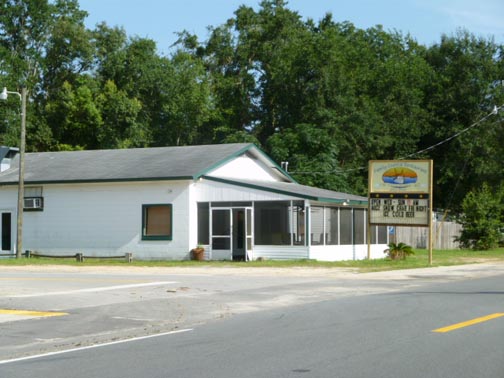 'One customer said
'how do you get steaks so good?'

'Well, we buy choice angus. We don't cut the steak until you order it.'

Roger Mckenzie
owner